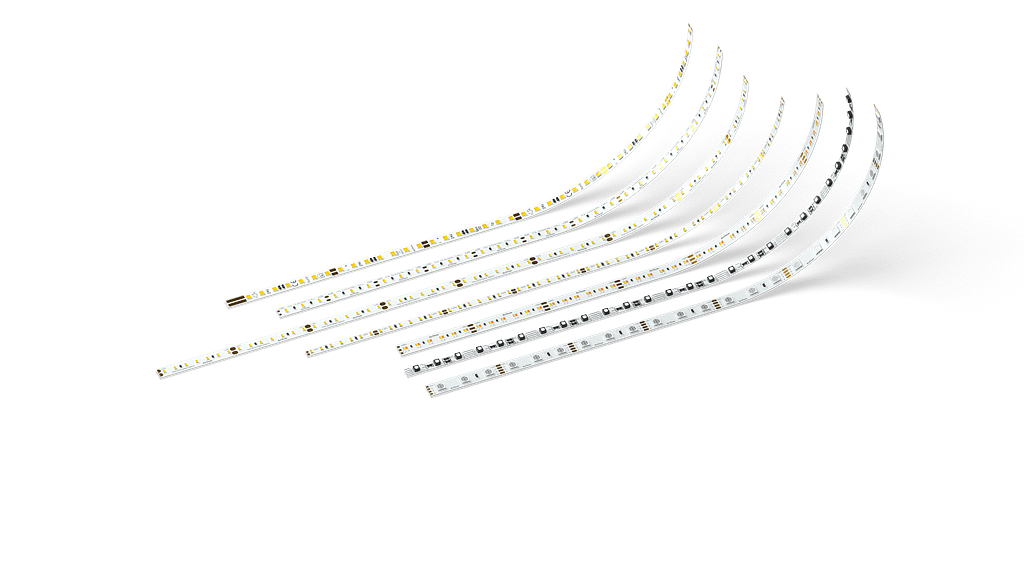 Nuestra gama de tira de LED flexible no sólo ofrece una flexibilidad inigualable capaz de adaptarse a tus ideas más complejas, sino que además presentan una gran variedad de tipos de luz.
Encuentra tu tira LED flexible de todo tipo. Tiras LED RGB, Blanca, 12V, exterior IP65, regulable, con mando, inteligente, sensor, blanco dual, CCT…

Flex Tira LED 12V y 24V con luz blanca de 3.000 a 6.000K es perfecta en la representación de colores naturales de productos. Ideal para cosméticos, complementos o incluso alimentos como la carne.

Con Flex Tira LED RGB dará dinamismo a tus diseños con colores brillantes y programación personalizada. Tira led de colores perfecta para dar vida a espacios nuevos.


Con Flex xCCT regulable blanco dual se pueden generar ambientes de confort visual simulando la luz natural. Idónea para oficinas, clínicas, centros de estudio y espacios donde prime la salud.
Logos
Lámparas
Retail
Arquitectura
Decoración
Interiorismo
Mobiliario comercial
Tira led empotrable
Totems LED
Cajas luminosas
Arquitectura
Iluminación producto
Tiras led de colores
Sensor de movimiento
Cultivo
Paredes
Señalética
Techos
Cocina
Regulable
Tira led con mando
IP65
Bañador de pared LED
Cajas de luz
Bañador LED para interiores
Tira de LED exterior e interior
Tira led con regulador de intensidad
También te puede interesar
Copyright All Rights Reserved © 2014 – 2019 Actilum RGB, S.L. All trademarks, logos and brands are property of their respective owners. All company, product and service names used in this website are for identification purposes only.
Legal notice | Certificates | Quality and environment policy